Preparation is complete for the 2nd Bass Pro Shops Bassmaster Open. This event will be held on Lewis Smith lake out of Jasper, Alabama. Tournament dates are March 6-8th with official practice starting on Monday the 3rd.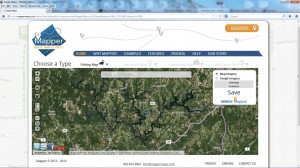 My travels will start on Friday the 28th and first day on the water will be Saturday. With five full days of practice I hope to get the winning pattern figured out. As always my prep has consisted of software programs and viewing satellite imagery.
One of the first things I do is try to figure out what the seasonal pattern will be. Start by reading current lake conditions and fishing reports others have posted on the internet. This will give you a starting point.
Next I follow current and future weather forecasts. This will help you figure out where the fish are moving to. Remember you always want to fish for the bass that are coming to you.
Now you can start to look on mapping programs like LakeMaster Contour Elite and MapperMaps.com for areas on the lake that will fit what you figured out. Once you find these areas make waypoints that you can check during practice. Load those waypoints onto your Humminbird units and start checking them out when you get to the lake.
Here is where I take it to the next level. While on the water running and checking the locations I found at home Ill use my iPad to save the productive way points to. Using my iPad allows me to have a clean slate with only key areas marked on it. The touch screen is faster to navigate with and find new locations similar to the ones that are following my pattern.
Prep is complete for me and waypoints are made. Time to hit the water Saturday and finalize the plan. Hope to see you at Bass Pro Shops in Leeds for the final day weight-in.